Concrete prices have gone up. As the newspaper "Kommersant" writes, everything in it has risen in price, except for water. In May alone, the cost of the material jumped by 10% compared to April, while usually concrete rises in price by no more than 6% per year.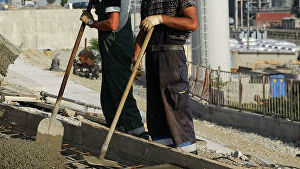 It is noteworthy that prices are growing against the background of an increase in concrete production since the beginning of the year – by more than a third. The situation is commented on by a member of the Ural branch of "Business Russia", a member of the Public Council of the Ministry of Construction of the Sverdlovsk Region Valeria Tyumentseva.
– In fact, concrete prices have not jumped everywhere, it depends on the region. And there are regions where there is a stable low rise in prices for building materials in general, for example, in the Chelyabinsk region. But yes, in general there is such a tendency, it is generally present in the construction market. This year it is associated with increased demand, since after 2020, many construction projects resumed their development, demand has grown all over the world, not only in Russia, demand for raw materials has grown, and it is now really in short supply in some areas. Also, transportation costs, the cost of inert components in concrete – all together gave a certain increase, not as significant as the rise in prices for iron or steel. There is a certain tendency, but it is still within the limits – from 5% to 10%.
– In general, how profitable is the production of concrete now? Many industries complain that they are operating at almost a loss.
– We can say that this is a rather profitable business, because Russia has state federal programs aimed at the development of housing construction, transport infrastructure, there is a constant demand in industry.
According to the expert, if concrete producers feel good with rising prices and an increase in the number of orders, then developers have to revise construction estimates. And it's not just concrete, says Stanislav Ivashkevich, CEO of Ivashkevich Hospitality.
Stanislav Ivashkevich, General Director of Ivashkevich Hospitality
"There is a very serious rise in the price of building materials, one of which is concrete, the price of metal is very powerful. So far, it feels like concrete – by 20%, metal – almost up to 50%, someone even told me that up to 70%. Previously, we did not notice such a sharp increase. Our key product, which we have been developing lately, is a motel chain, it is all made of metal and concrete, there are lightweight structures. Initially, we counted on 100 million rubles for one such motel. Now our price has increased to 120 million, we are afraid that it will already be 130 million rubles. A 20% rise in the price of one project. This is a very serious increase for us. The payback period is changing, the conditions under which we will ask for money from banks are changing, and our terms are increasing: if we focused on payback in seven years, now it is up to ten years, the payback of a standard hotel. At the same time, we understand that we cannot sharply raise the price for a room, because there are market requirements: if a room cost three thousand rubles, we cannot sell it for five thousand rubles from tomorrow. "
The Union of Concrete Producers told Kommersant that against the background of a steady rise in the cost of raw materials and tariffs for transportation, there are no prerequisites for a decrease in concrete prices yet.