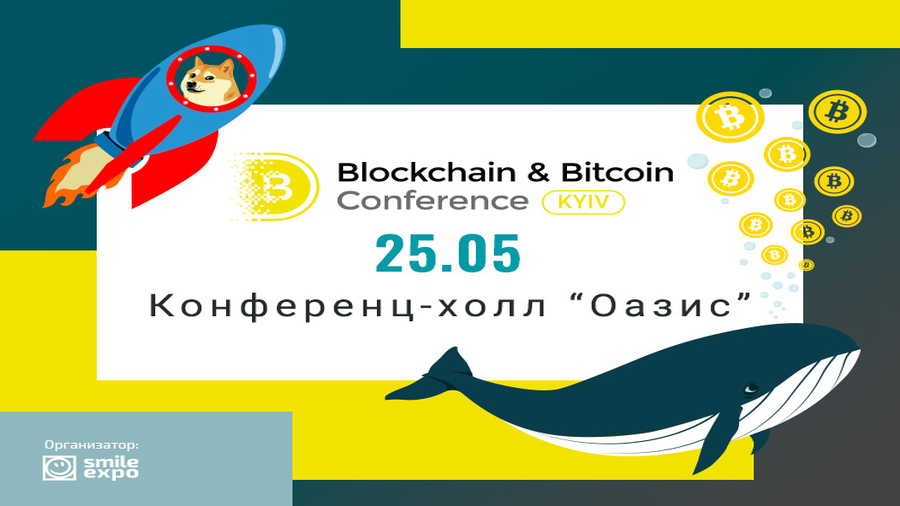 On May 25, in Kiev, in the Oasis conference hall, the Blockchain & Bitcoin Conference will be held, dedicated to the trends in the cryptocurrency industry and the prospects for the development of the Ukrainian virtual asset market.
The event will bring together experts recognized in the cryptocurrency environment, government officials, lawyers, investors, IT and cybersecurity specialists, traders, crypto enthusiasts, fundraisers, startups, marketers and many others.
Among the speakers of the conference:
Oleksiy Zhmerenetsky, People's Deputy of Ukraine. Head of the inter-factional parliamentary association Blockchain4Ukraine.

Yuriy Melashchenko, Advisor to the Secretary of the National Security and Defense Council of Ukraine and the head of the State Special Communications Service. He is the CEO of the Security Services Group.

Igor Porokh, cryptocurrency market trader. Owner of the consulting company Porokh & Co.

Oksana Tyupa, fundraiser, president of Rotary Club Kyiv International. Partner for attracting investors in the Startup Network.
In their reports, experts will talk about the main rules and strategies of cryptocurrency trading, give recommendations on the protection and storage of digital assets, and also explain how to recognize phishing. They will discuss how non-fungible tokens (NFT) can be used in charity and will analyze real cases.
In addition, the conference will raise questions about the possibilities of stablecoins, the role of cryptocurrencies in the formation of state digital currencies, the specifics of launching the digital asset market in Ukraine, and many other relevant topics. A complete list of speakers and topics of their reports can be found on the official website.
In addition, the organizers of the Blockchain & Bitcoin Conference launched their own Smile Blockchain Podcast, in which the speakers of the event become participants. The guest of one of the episodes was the General Director of Security Services Group Yuri Melashchenko. In an interview, he listed the risks when working with cryptocurrency, explained what rules should be followed to protect virtual assets and how to work with custodian storage.
In order for the guests of the Blockchain & Bitcoin Conference to be able to acquire useful connections and get the maximum benefits from attending the event, the program provides for speed dating, which will last 35 minutes. Each pair of participants will have only a few minutes to communicate. During quick meetings, it will be possible to get acquainted with many specialists in a short time, exchange contacts with them and agree on further communication.
A Telegram chat has been launched for guests, speakers, exhibitors and sponsors of the Blockchain & Bitcoin Conference. Its members get to know each other, discuss the latest developments in the industry, and offer vacancies. A detailed program of the event and registration is available on the website.
Bits.media acts as an information partner of the event and is not responsible for the accuracy of the content of the press release, as well as damage associated with its use.