Are you want to see best EA ? Please visit IT
Brussels will pay Yerevan only 3 million euros for giving up the national treasure.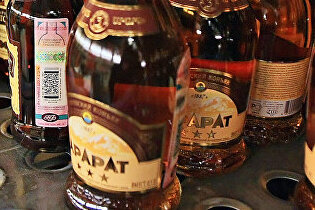 The Armenian government approved a financial agreement with the European Union, which obliges Yerevan to abandon the production of alcoholic beverages called "cognac". Brussels will allocate 3 million euros for the program to rename the well-known Armenian brand, which is essentially a national treasure of the country. Just. Sheer pennies …
This does not mean that tomorrow Armenian cognac will disappear from store shelves. The agreements with the EU envisage, as indicated in the document, a "smooth abandonment". That is, first, Armenia must stop selling alcoholic beverages under this brand in the local market – this is given 14 years, and after 25 – in the foreign market.
It will be replaced by a new trademark that has yet to be developed. It is also planned to create a new advertisement for the renamed product and a strategy for its promotion in the domestic and foreign markets.
All this, according to the Minister of Economy of Armenia Vahan Kerobyan, should help local producers to maintain their export competitiveness.
Actually, the requirement to renounce the name "cognac" is stipulated by the Agreement on a Comprehensive and Enhanced Partnership with the EU signed back in November 2017, which entered into force on March 1, 2021.
According to the document, Yerevan should also abandon the name "champagne". But this topic is still not so urgent for Armenia.
The fact is that in Europe there is such a concept as "a product historically originating from a given region". And cognac, according to EU legislation, can only be called a strong alcoholic drink produced in a certain region of France, namely, in the Charente department, where the city of the same name is located – Cognac.
The same goes for champagne – it can only be from Champagne, unlike, say, other sparkling wines from France, Italy, Germany or Spain.
Russia, nevertheless, was able to defend its rights to both cognac and champagne.
Back in 2013, the Federal Service for the Regulation of the Alcohol Market made a decision that in Cyrillic the words "cognac" and "champagne" do not have a geographical reference to the famous French provinces, but only denote the types of products enshrined in GOSTs.
But Armenia for some reason chose to sell its national brand to the European Union.
Vadim Drobiz, Director of the Center for Research on Federal and Regional Alcohol Markets (CIFRRA), asked JV to comment on the situation:
– Armenia has been at the crossroads between Russia and Europe for many years. There, even before Pashinyan, negotiations on association with the European Union were under way. One of the questions, naturally, was the question of naming – i.e. renaming of Armenian alcohol. It was about replacing the word "cognac" with another word.
"Armenian Cognac" is probably the number one brand in Armenia. Almost all of these products are delivered to three countries – Russia, Ukraine, Kazakhstan. Moreover, about eighty percent goes to us, if not more. By and large, this is a purely product for Russia. And if the term "cognac" were banned in Russia, then export sales of Armenia would collapse, and they would urgently have to change the name.
And since Armenia is very eager to integrate with the EU, Brussels set a condition for it – to change the name "cognac". About a few months ago, the parties finally agreed on this issue.
And we came to the following agreements: the Armenians are given twenty-five years to finish using this name – "Armenian brandy". For ten to twelve years they can still manufacture products under this brand. And since this product requires aging – at least three years, they are given another ten (or even more) years to sell off stocks.
That is, they will use this term for another quarter of a century.
So, 3 million euros from the European Union is not a payment for the sale of a brand. This is the compensation that will go primarily to the name change. Because marketers have to come up with it, then spend some money in the markets where Armenian brandy is present in order to convince the consumer that the same product is being sold under the new trademark – the former Armenian brandy. This is money for rebranding, advertising and promotion. This is not buying a brand.
At one time, by the way, Armenia sold the French concern Pernod Ricard for $ 30 million – actually a penny – the "Ararat" brand. And now it's not their trademark. And the Armenian brandy itself is good, of course, but without the word "Ararat", this is not at all the same.
"SP": – On the territory of the USSR, cognacs, as far as we know, were made not only in Armenia, but also in Georgia, Moldova, in Russia – the famous Kizlyar cognacs. But the Europeans don't like only the name "Armenian". Why?
– With Georgia, and Georgian cognac is also well known, no questions at all. They will be given the command – they will refuse the same second. But Europe and the US still support Georgia economically after 2008. They have done a lot to promote Georgian wines in the world, although a small percentage is sent to Western countries. 85% choose the same Russia, Ukraine and Kazakhstan, with most (65%) going to our country.
Therefore, Georgia is not touched. She is, as it were, an ally of Europe against Russia.
In Moldova, the name was changed. Now Moldovan cognac is officially called "divin" – this is its state brand. There is also Ukraine, where excellent cognac was also produced, and there were famous brands. But Kiev also abandons this name after a few years.
So the issue has been resolved with the EU satellites – Moldova and Ukraine. Georgia needs help. Armenia was also given serious benefits – for 25 years they can still sell their brandy.
And what will happen there, who knows? Remember the old parable about Khoja Nasreddin, who promised the padishah to teach the donkey to read the Koran in twenty years? What did the cunning deceiver answer to those who doubted his abilities: "In twenty years one of us will surely die – either me, or the padishah, or this donkey."
So here: what will happen there in a quarter of a century, no one knows
"JV": – The EU promises to help Armenian producers to remain competitive in export markets. But if "Armenian cognac" is a weighty brand, then the new one needs to be promoted for a long time, and during this time you can lose a considerable part of customers. What is the competitiveness here?
– There is a good example of Moldova here. It's just that we have almost no Moldovan cognacs now, because 90% of Moldovan factories are unable to supply products to Russia. They don't have permission. A thin stream goes here.
But in Soviet times there was a magnificent Moldavian cognac "White Aist". It also cost more. Regular – 6-7 rubles, and this one – eleven.
Now renamed to "divin". Nobody noticed. It is very important to choose the right name here. So far, the Armenians have problems with this.
About five or six years ago, they were already talking about renaming and then came up with a completely unfortunate name "arbun". I even told them then that if they work for the Russian market, then there should be a more appropriate name.
Americans, for example, rename their products for China if the name in Chinese sounds stupid and dissonant when translated.
And here too. The wonderful name "armeniac", it seems to me. But again, the French may be against it, because it is consonant with "Armagnac".
In general, let them smash their heads. They get a lot of money for cognac from Russia, so they should be interested.
The main thing is not to call the product "brandy". I think they understand this. And we need to move on to a new name, maybe already now. We are not talking about quality at all – everything should be better than now.
Head of the Institute of Contemporary State Development, political scientist Dmitry Solonnikov believes, in turn, that rejection of the brandy brand is more a matter of politics for Armenia than of economics:
– The main market for Armenian cognac is the countries of the former Soviet Union, as well as Georgian wine. In Europe, few people need them, with all the good attitude. Why do Europeans need competitors?
And if it will be sold on our market, then the loss of the name "cognac", of course, will hit the product. Because it is consumed largely out of old memory. And this is such a kind attitude towards our common reality – "Soviet Champagne" and "Armenian Cognac".
We defended "Soviet champagne" as a brand. And on the domestic market, it is sold as champagne, not just sparkling wine.
There will be some Armenian brandy here. That is already a twofold question for the economy. Although there is a time lag of 14 years. But how the world map will look in 14 years (especially in 25) is hard to say.
Maybe the Armenians think that "everything will still change, and we will rewrite this decision ten times, and we will receive 3 million euros right now."
Only for such a legendary brand, this is a meager amount. And it doesn't matter how everything is formalized. The bottom line is that three million for rebranding and for abandoning this name of their products is a very small amount.
Therefore, of course, there is no big economy in this. Rather, it is a positive signal to Brussels and Europe that they accept their rules, accept their conditions: "Let's be friends with us, we will be on your side, we will be in your big family".